You'd think it's all fun and games at Gatebil. Well, for the most part that is true, but it does have its moments that competitors would probably rather forget. Whether it's a catastrophic mechanical failure, a shunt with another car, or even a smashing high-five with the wall, when things go wrong at Gatebil it can be devastating.
For Norway's Casper Thorsen, there have been good times and bad with his wild 1985 Audi 90 (Typ 85) Sport Quattro-inspired build. Before we delve into those details though, if you're a long-time Gatebil attendee and Casper's last name sounds familiar, it's for good reason.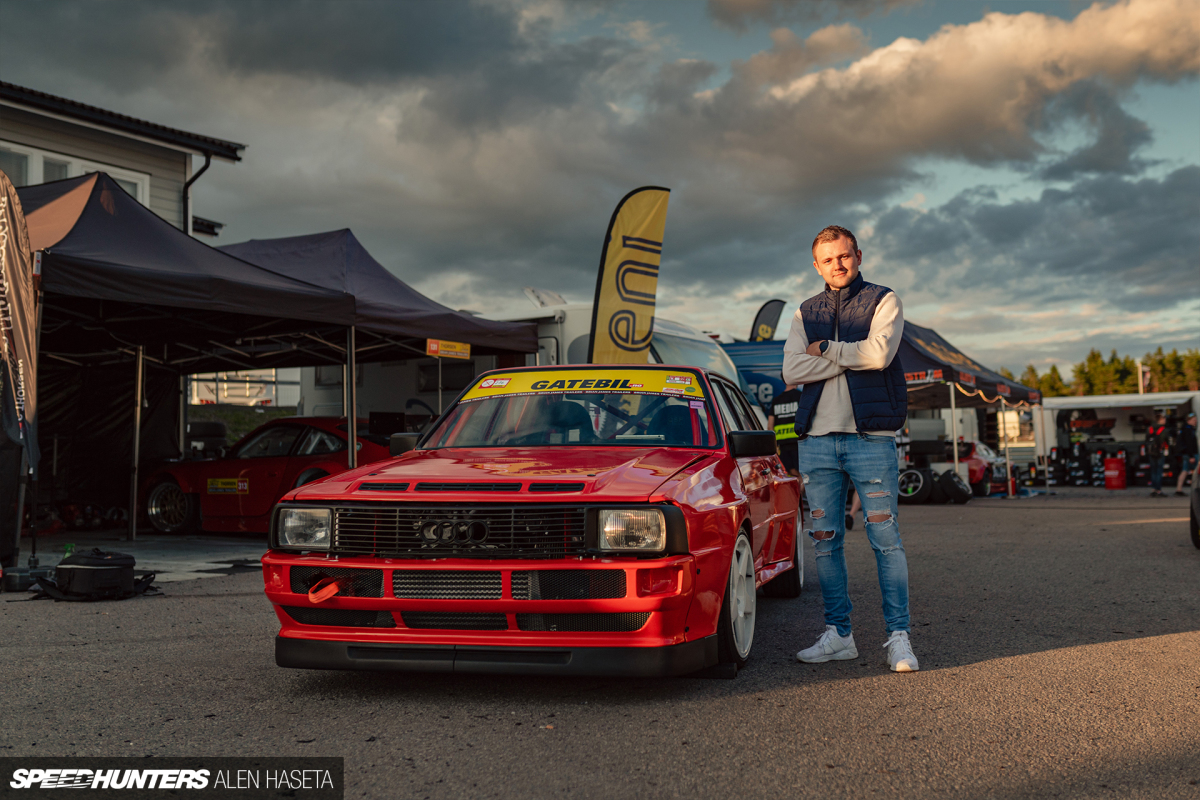 A decade ago, we featured a 790hp Audi S2 at Gatebil Rudskogen. That car was owned and driven by Casper's father, Ørjan Thorsen.
Ørjan's Audi was one of the first cars Sean Klingelhoefer was drawn to at the Rudskogen event in 2012. Coincidentally, Casper's Audi was one of the first cars I looked at in the Rudskogen paddock earlier this summer.
Audi builds are always something to look out for at Gatebil. Watching these four-wheel drive monsters going sideways at insane speeds is breathtaking. Just check out the clip above and you'll see what I mean.
Both videos like this and Audi's Group B rallying exploits all played a big part in Casper's journey with his 90 sedan, but the seed was definitely planted early on by his father. First in a 640hp Oldsmobile Cutlass that Ørjan drag raced, and later in the aforementioned Audi S2 that he tore up Gatebil in.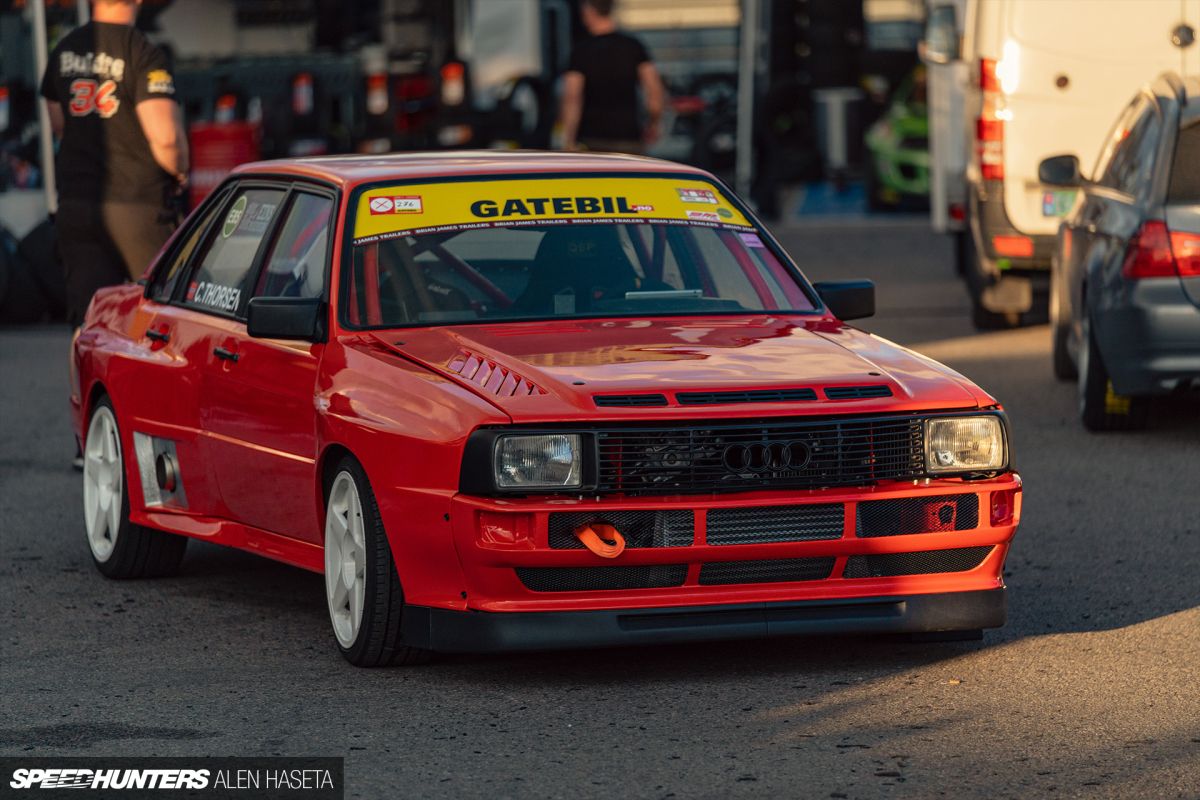 Casper bought this Audi from his brother when he was just 15 years old. At that time though, it wasn't much more than a bare shell with a roll cage.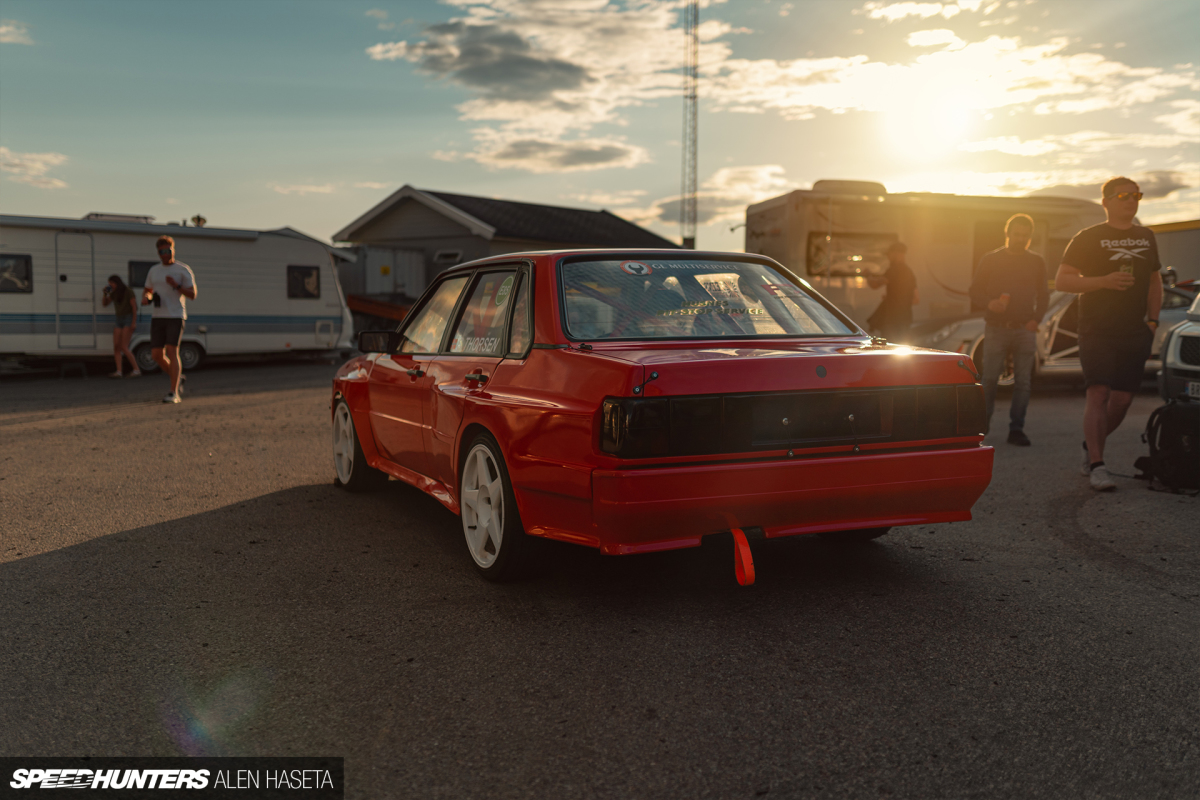 In the first phase of this build, Casper did things on a real budget. He couldn't afford a built engine for high power, so Casper simply lightened the Audi as much as he could. Holes were cut in various places, including the doors, the hood and the trunk lid.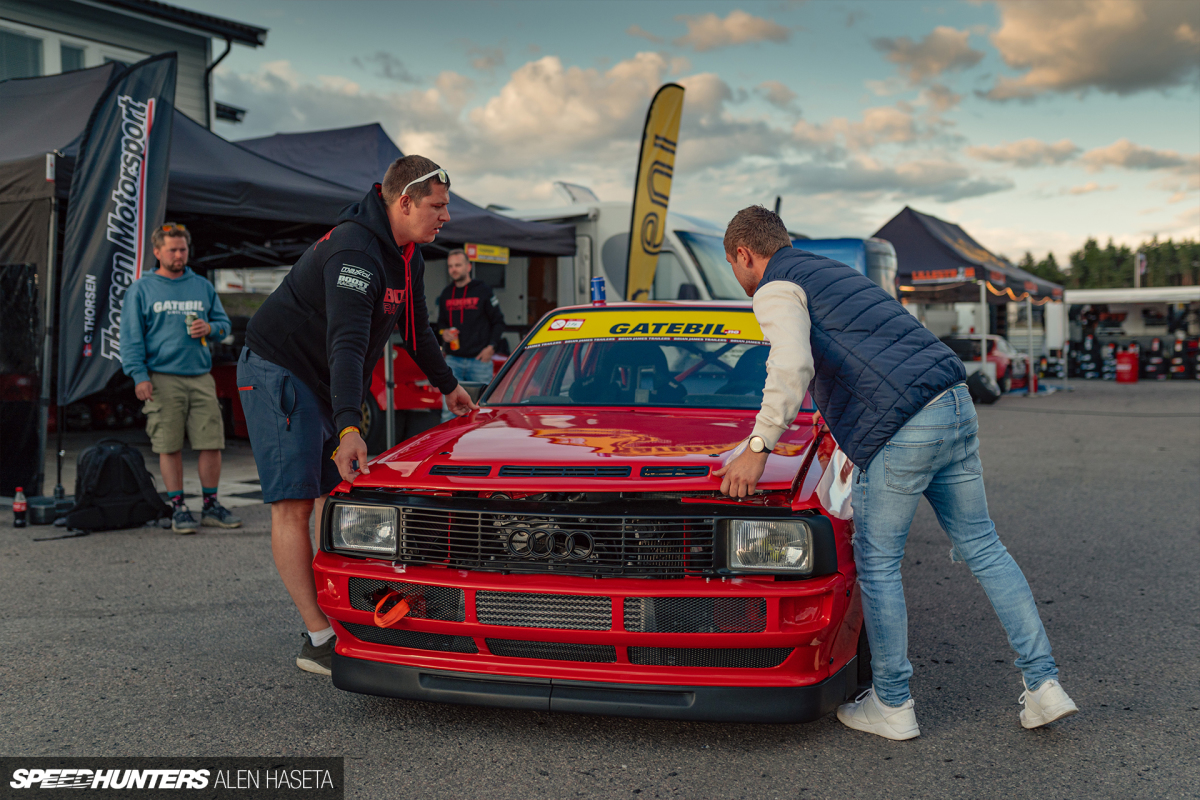 Working three jobs eventually provided the financial means to take the Audi to the level Casper envisaged for his build, but the flip-side of that was a lack of spare time to actually work on the car. Thankfully though, Casper had his father along for the journey.
In 2018, the original engine was sold and a new, fully forged 2.6L, 5-cylinder Audi 20V turbo engine was mounted up.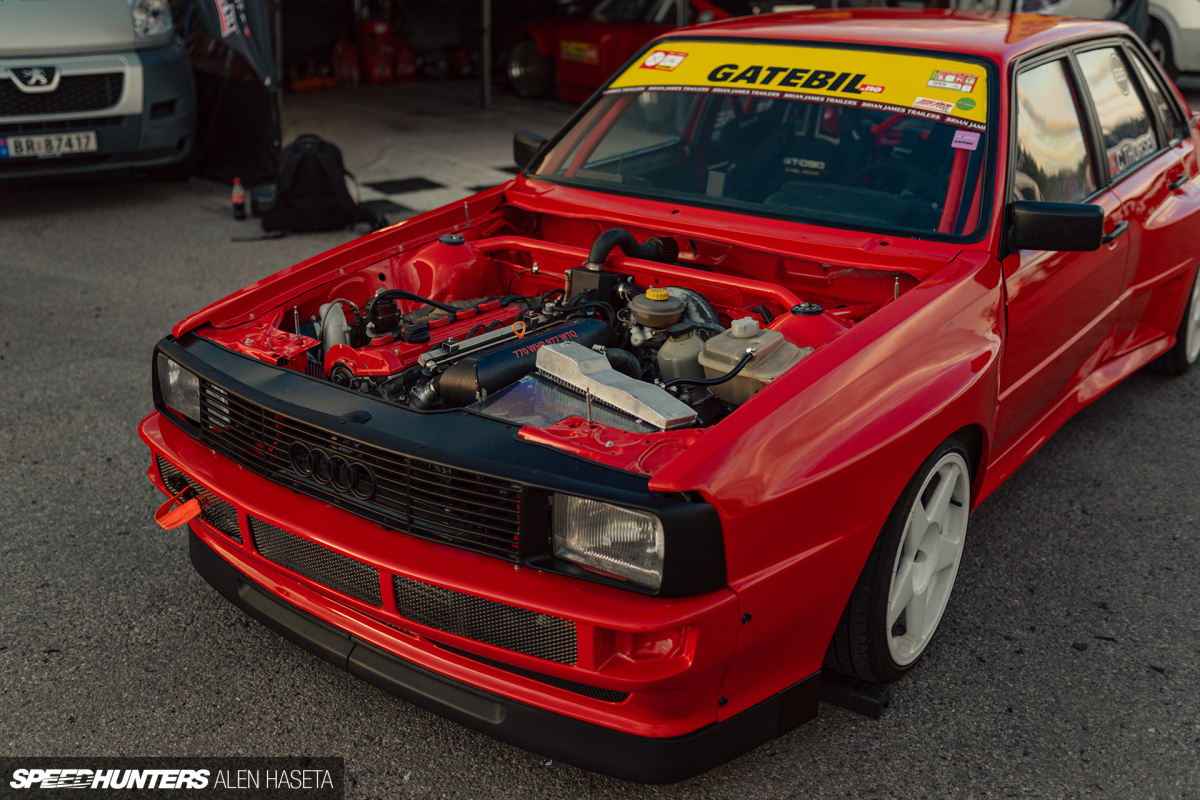 I wondered why I'd only briefly seen the Audi out on track during Saturday morning, and while Casper did his best to cover up the chipped paint on his intake with a black marker, he told me that the valve lifters had shattered, damaging the cams and breaking the pulley and timing belt. Sadly, this put him out for the rest of the 2022 event.
As the '770whp' and '977wtq' dyno numbers on the plenum chamber proudly state though, before the engine broke it was generating some serious power and torque.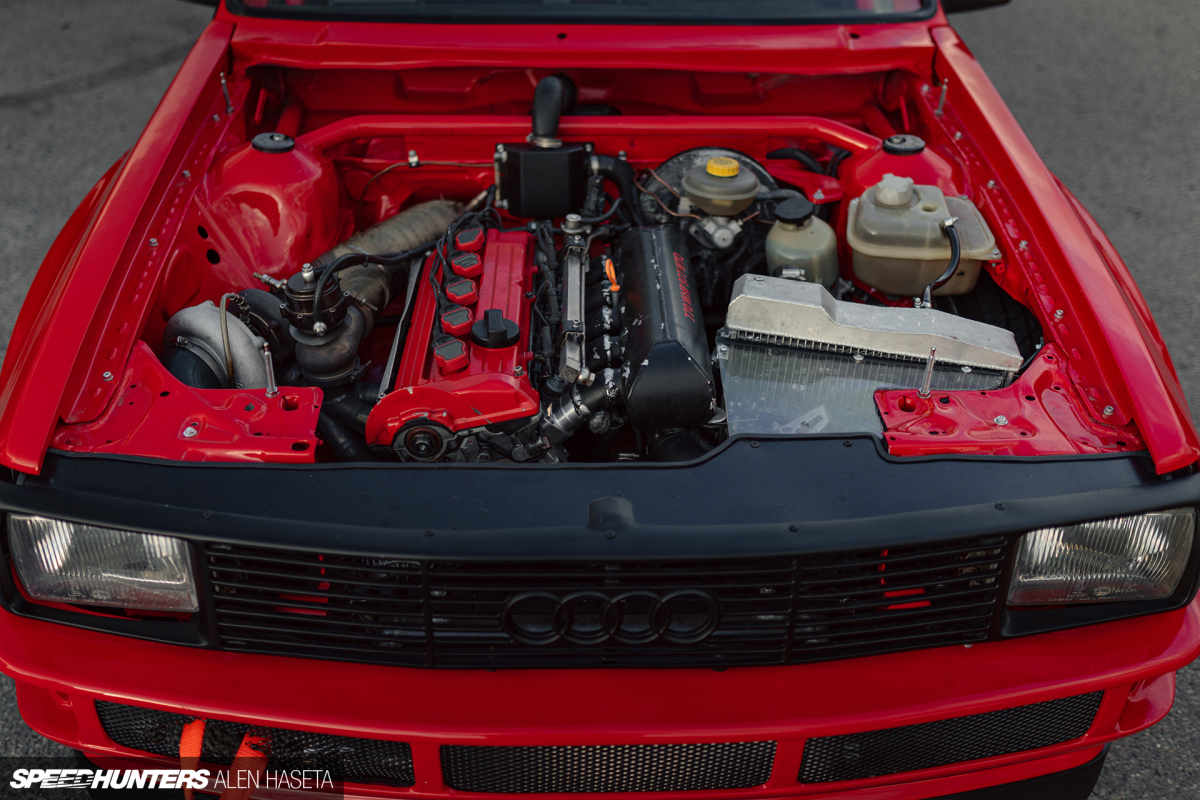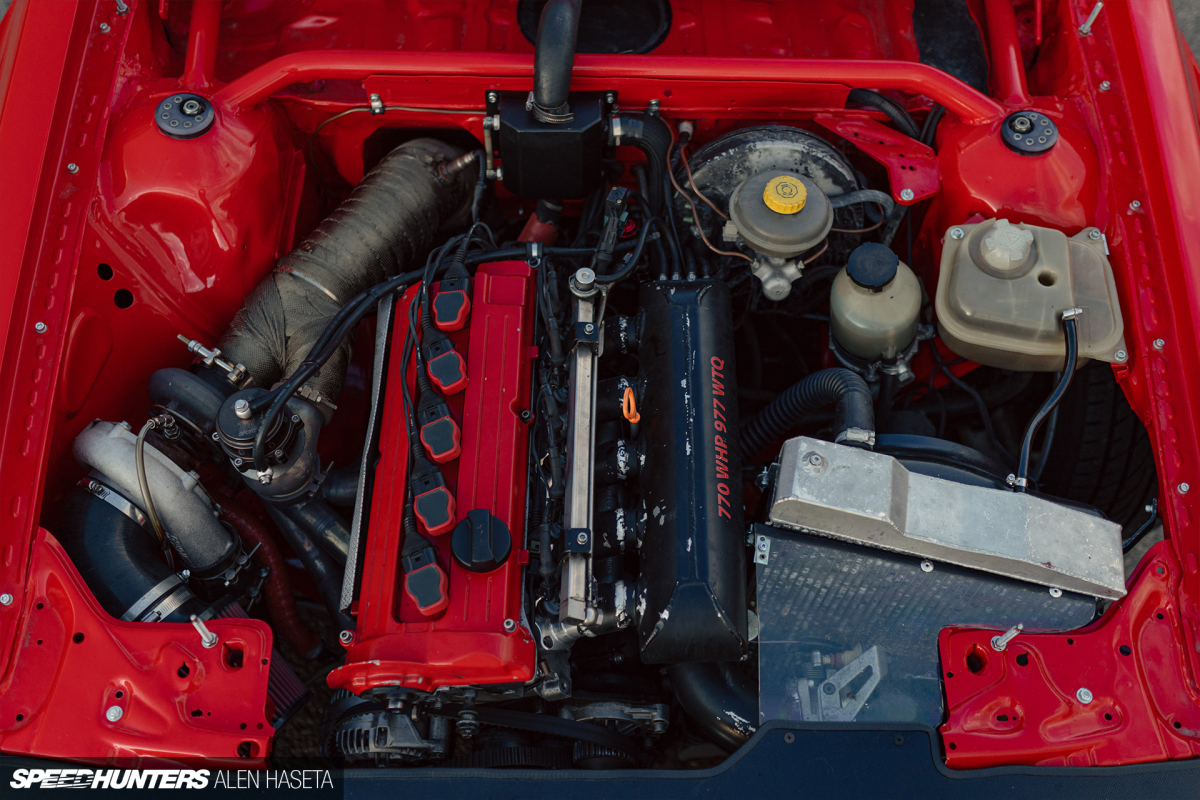 The motor itself is built around an Audi A6 (C4) 2.5L diesel block that's been stretched to 2.6L with oversized pistons and fitted with an Audi 20-valve turbo cylinder head. The latter is fully ported and equipped with Cat Cams camshafts and 034Motorsport oversized valves with titanium retainers. Dahlbäck Racing supplied the intake manifold, which is fitted with a custom fuel rail and 1,680cc injectors, and the exhaust manifold, which mounts a Precision PT6466 Gen2 turbocharged paired with a 66mm Precision wastegate providing 2.6bar (38psi) of boost pressure. There's also a large front-mount intercooler, 4.5-inch exhaust, and an aluminum race radiator. Engine management is provided by a MaxxECU Race system.
The power and torque generated gets to all four wheels through an SQS 01E dogbox transmission combined with a SQS front differential, an open centre diff, and an original locked rear differential.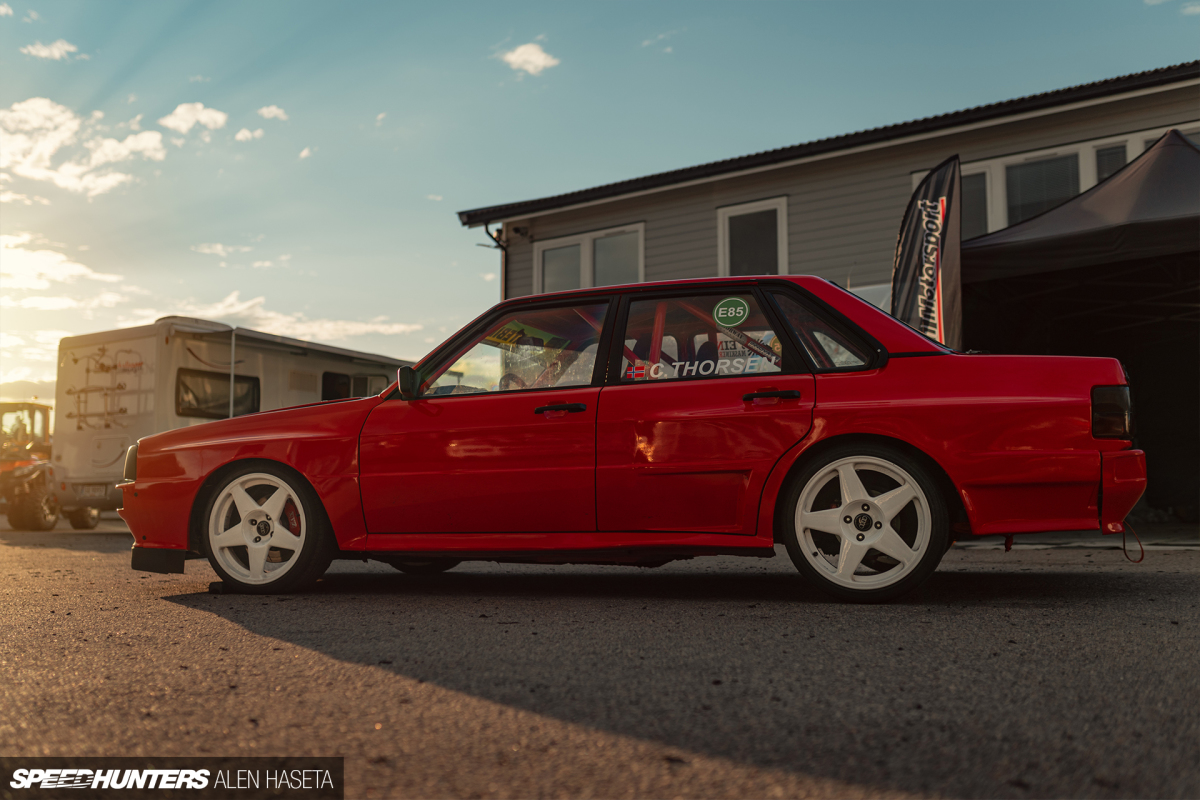 The engine failure encountered at this year's Rudskogen event wasn't Casper's first dose of bad luck at Gatebil. The 2020 edition was far worse.
At that event, Casper lost control and crashed his car. The resulting damage necessitated some major repairs, so to make the best out of a bad situation, the downtime was also spent completely making over the Audi's exterior.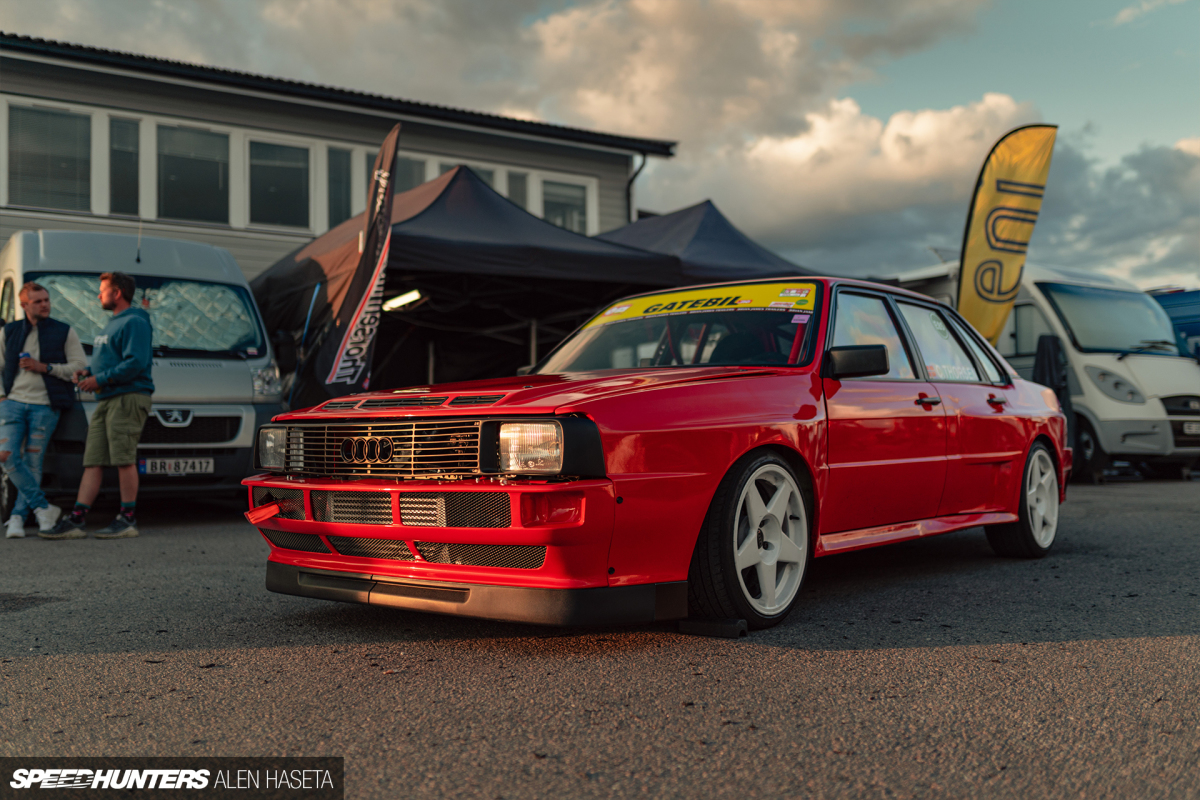 The most obvious upgrade is the Audi Sport Quattro look, which was achieved using a Cool-Wheels kit. Before this could happen, brand new steel doors, fenders and back end panels needed to be grafted on the car, and then the kit, which was obviously designed for the coupe, needed to adapted at the rear for the sedan. By moving the door openings and adjusting the handles, the conversion worked out well.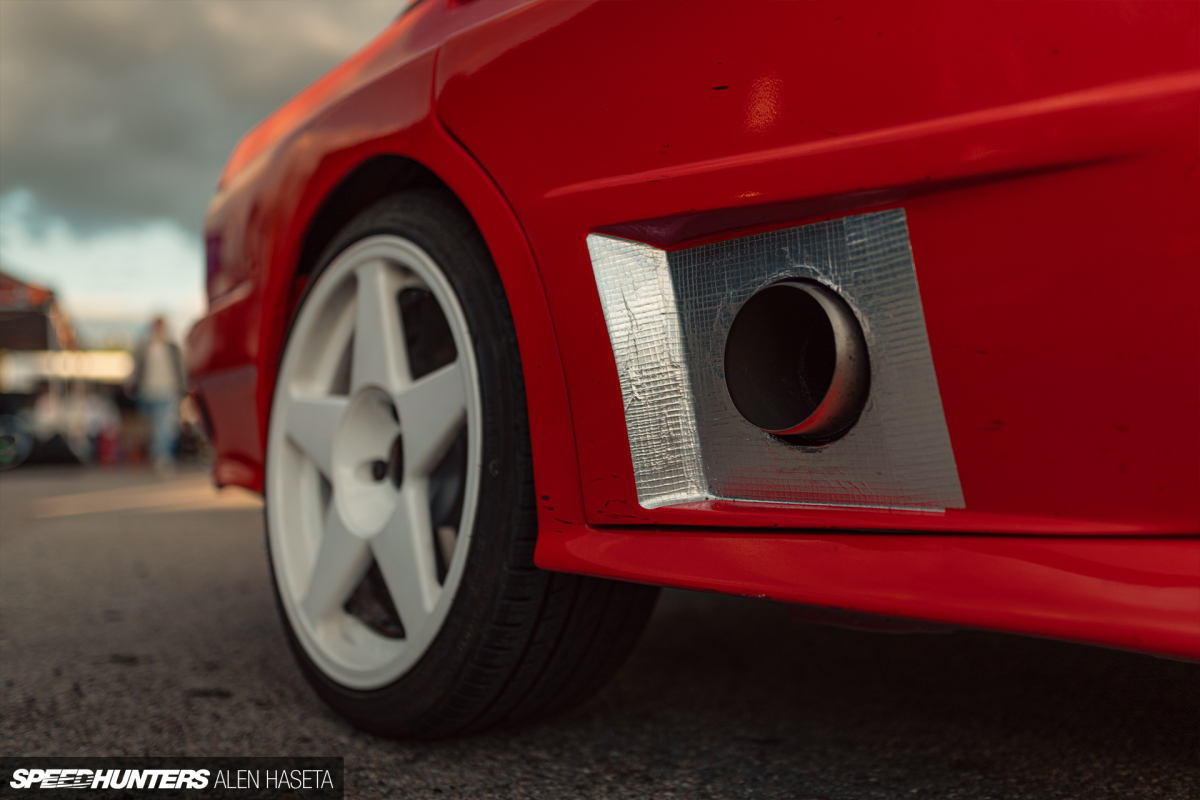 One of the coolest details has to be the 4.5-inch exhaust outlet, which exits through the right-rear passenger door.
The wheels, white AZEV As in 17×8-inch at all four corners, give car a classic rally look. Behind these sit an XYZ 330mm big brake kit at the front end.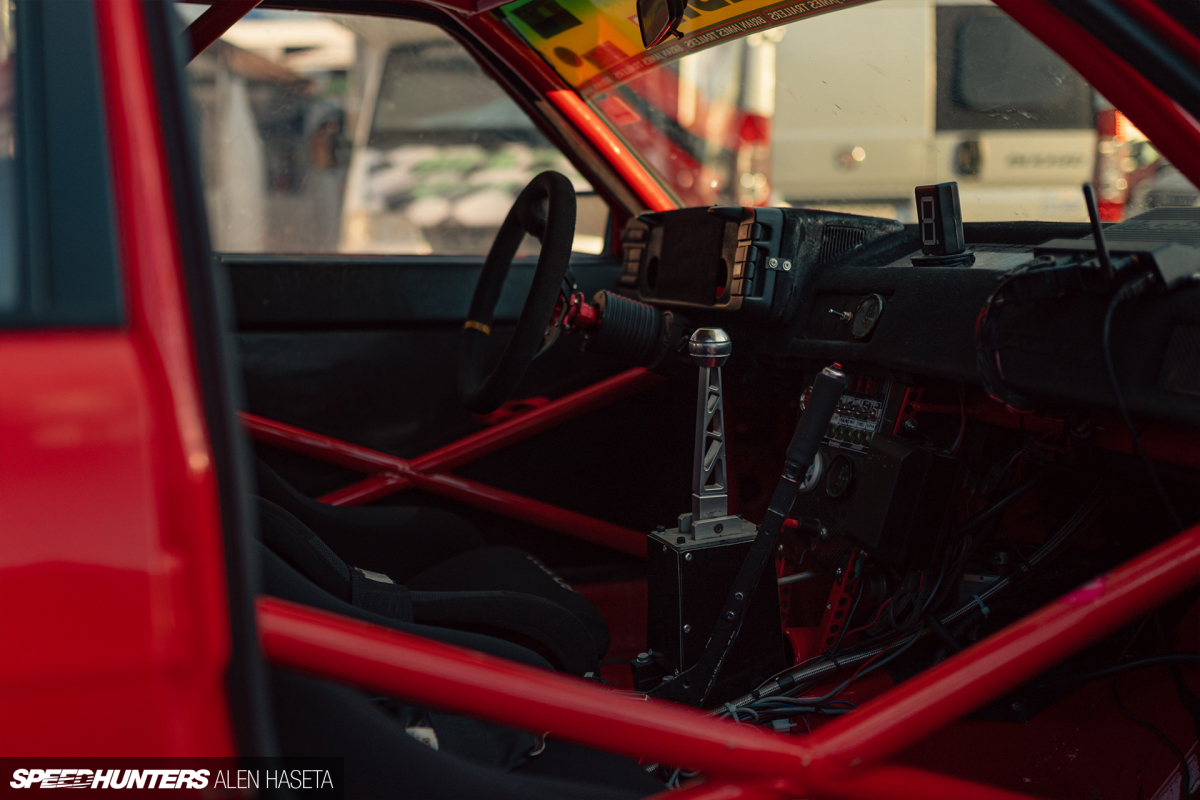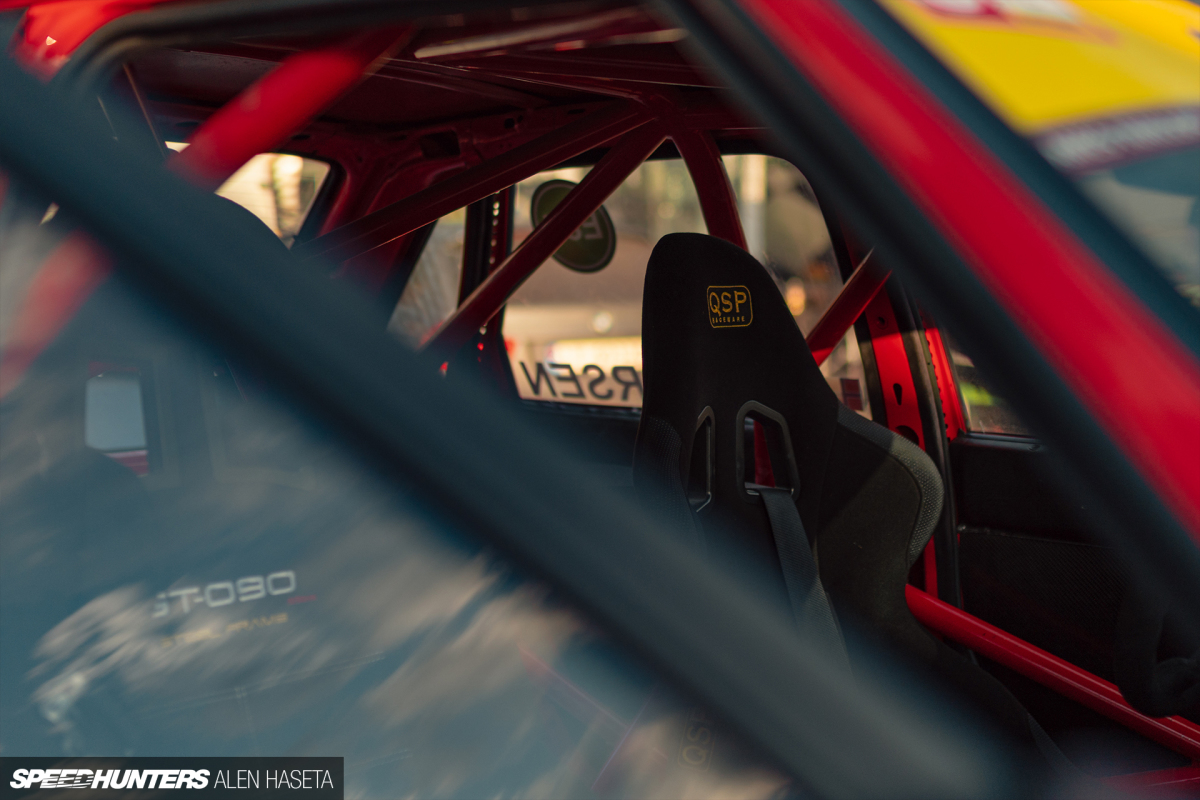 Inside, the Audi is well-equipped for action with an extensive roll cage, QSP and Sabelt bucket seats paired with 4-point harnesses, and a Sparco suede-wrapped steering wheel. The custom carbon fiber, partially flocked dashboard is home to a custom switch panel, various gauges and a digital gear indicator, while the transmission tunnel mounts the SQS shifter lever and hydraulic e-brake.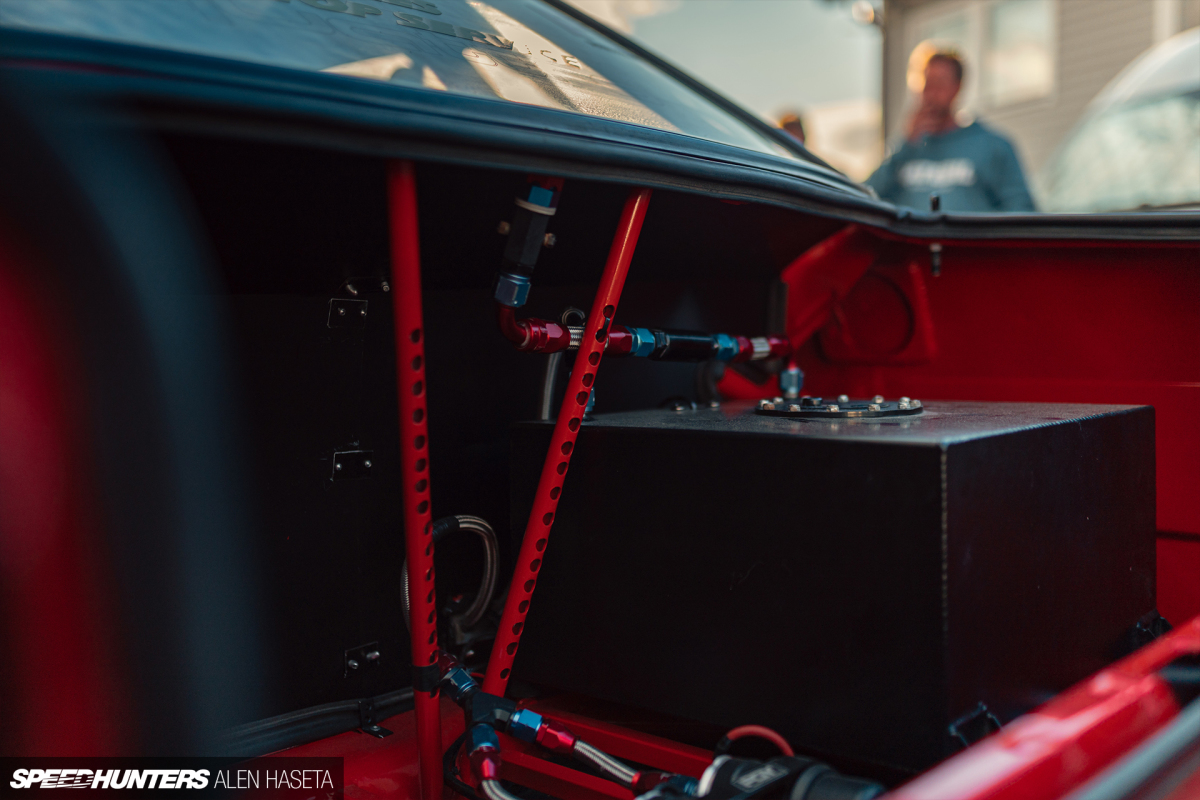 The trunk setup is as equally clean and well laid out. There's a 40L cell and twin PQY Performance pumps for E85 fuel supply, and, in a lesson learnt from Casper's 2020 crash, a bash bar to keep everything protected.
Those metal rods that stick up from the trunk floor keep the rear window from flexing under load.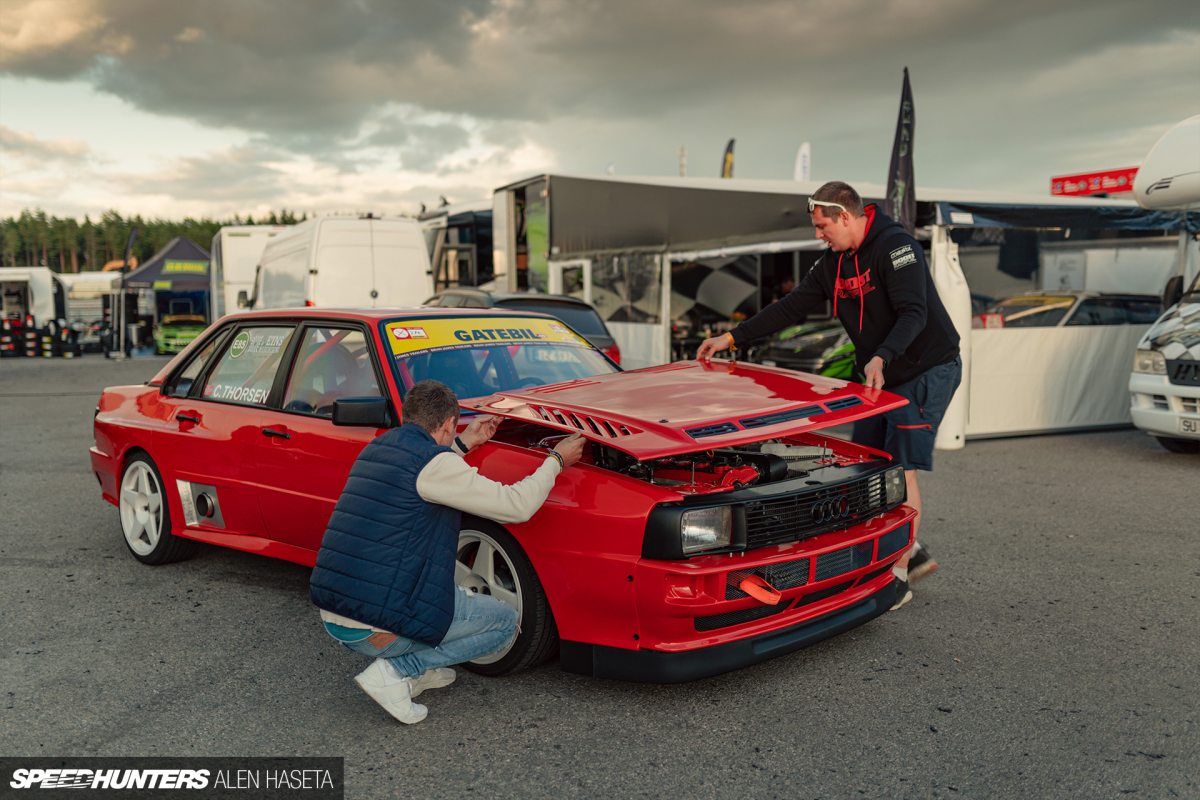 Even though Casper has had some bad luck with his Audi, he was still in high spirits during our shoot. Speaking with him after the event, he told me that he can't wait to unleash the full potential of the car. In March next year he will be traveling to Spain to participate in Volrace, so if you fancy seeing a high-powered four-wheel drive Audi getting sideways, you know where to go.
I was also told that the Thorsens have another amazing Audi build on the way. The Gatebil Extreme (race and time attack) series will soon have a new contender, and if it's anything like what we've already seen from this crazy (in a good way) family, it'll be something I definitely need to check out in detail next year.
Alen Haseta
Instagram: hazetaa