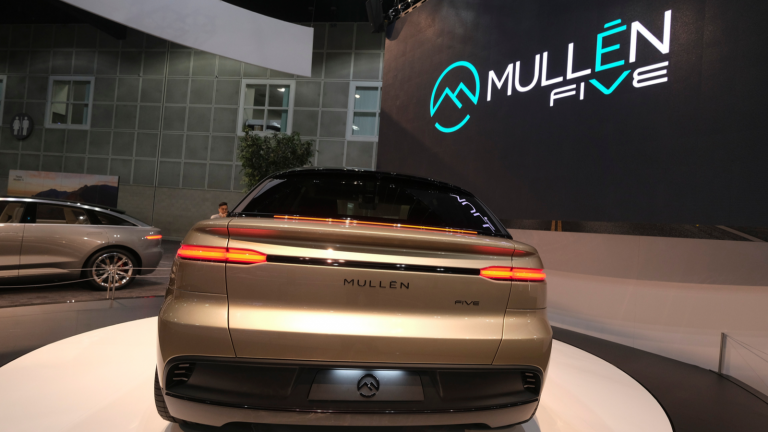 Source: Ringo Chiu / Shutterstock
Mullen Automotive (MULN) claims it will produce an electric vehicle (EV) called the Mullen Five.
The problem is the company has no cash commensurate with the value proposition, and it will take 2.5 years to produce the EV.
Something seems off, as Mullen is relying on an equity line of credit to fund its operations and the stock is heavily shorted.
Mullen Automotive (NASDAQ:MULN) has somehow spiked from a low of 66 cents a month ago to $3.31 as of March 22. There are plenty of reasons for investors to steer clear of MULN stock.
| | | |
| --- | --- | --- |
| MULN | Mullen Automotive | $3.14 |
Why You Should Stay Clear of MULN Stock
For one, it only has $360 in cash on its balance sheet, which seems off. That's $360, not $360,000 or $360 million. This is strange, since the company went public in November 2021. Apparently, it didn't really raise any cash in its reverse merger initial public offering (IPO).
But at yesterday's price, Mullen Automotive has a market capitalization of about $116 million. That doesn't coincide with a supposed manufacturing company planning on making EVs.
The balance sheet also includes $61,100 in "restricted cash." These funds are refundable deposits for individuals and businesses who have made $100 reservations for the Mullen Five. It debuted at the Los Angeles Auto Show in November 2021.
You can see this strange balance sheet on the right. It shows the $360 and restricted cash of $61,100.
However, Mullen cannot really access this cash until it is able to begin actual production and expects to deliver the cars. It may have to return the cash if it shuts down. So the cash is useless to them now. That brings us back to $360 in the bank.
This is also probably why MULN stock has a high short sale ratio. Yahoo! Finance says that 9.3% of the float outstanding as of Feb. 28 is held short. That means these short investors expect the stock will fall, and they have been selling borrowed shares.
Here is the bottom line in investing. If anything feels off, move on. Always look for reasons not to invest in a stock. You have to be convinced to buy shares. I have already told you about two red flags. Do you want to know about another one?
Equity Lines of Credit Are for Losers
This is my standard line for those who want to invest in companies that have equity lines of credit. It's a standard technique of hedge funds that set up small public companies like Mullen Automotive that desperately need cash.
The problem is their deals are always extremely complicated. They look good for the company; they can access cash by selling shares, just as Mullen Automotive agreed to do.
Moreover, it's almost always a bad sign that when regular investors, venture capital companies or institutional investors don't want to invest in the company, it turns to a hedge fund offering an equity line of credit.
By the way, these deals are never officially called equity lines of credit. They typically get more sophisticated titles, but this deal used the term. Page seven of the company's prospectus talks about its $30 million equity line of credit.
The problem with these lines of credit is they generally lead to huge dilution. The hedge fund almost always finds a way to get more shares issued to them that will severely dilute existing shareholders. But the company doesn't care since it gets cash, and the hedge fund generally borrows the money it gives to the company.
It typically has sold short the shares it gets in advance or sells them immediately. Somehow, however, the stock has already been pumped up so the hedge fund gets a good price. In short, stay far away from MULN stock.
On Penny Stocks and Low-Volume Stocks: With only the rarest exceptions, InvestorPlace does not publish commentary about companies that have a market cap of less than $100 million or trade less than 100,000 shares each day. That's because these "penny stocks" are frequently the playground for scam artists and market manipulators. If we ever do publish commentary on a low-volume stock that may be affected by our commentary, we demand that InvestorPlace.com's writers disclose this fact and warn readers of the risks.
Read More: Penny Stocks — How to Profit Without Getting Scammed
On the date of publication, Mark Hake did not hold (either directly or indirectly) any positions in the securities mentioned in this article. The opinions expressed in this article are those of the writer, subject to the InvestorPlace.com Publishing Guidelines.